Game Changer: Fun Business Socks in the Office
on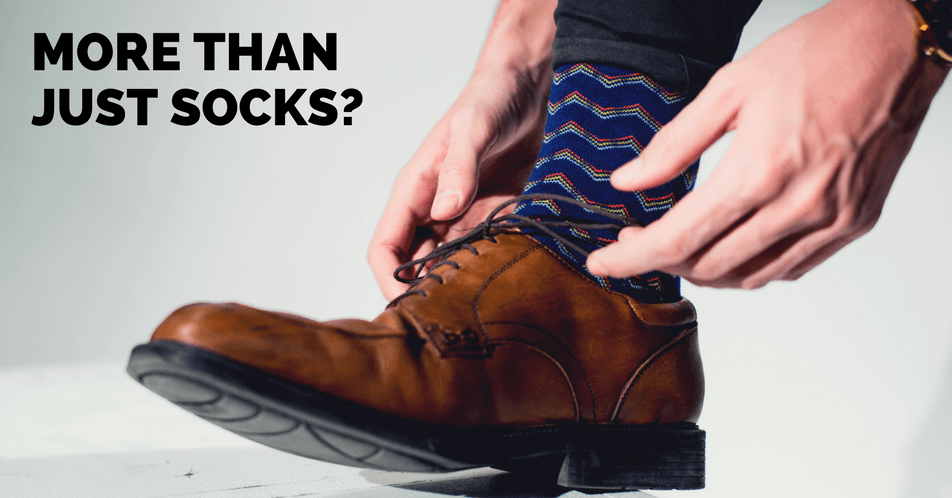 Wearing bold, colourful, and often patterned fun business socks in the workplace could be your new key to success. If you're not already aware of the trend, it might be time for you to get on board.
You could sift through a ton of sources that would tell you why this is a good idea, or, you can keep on reading this one. Here's the jist of it: there are a ton of benefits that come with wearing these socks.  
In the business world, dress codes are often strictly regulated. Rocking funky socks can then become a fun, simple and acceptable way to shake things up. In a blog post, Ted Jenkin, co-CEO at oXYgen Financial, states that socks have successfully replaced ties as the hottest trend in the workplace. 
Granted, his claim comes from his understanding that the workplace has generally become more casual, which reduces the need to wear a tie altogether. While this may be true for many businesses, the requirement of formal business wear is not completely lost. Ties may have once been the only option for men wishing to express their individuality, style or humour, but the introduction of funky socks has changed the game.
Benefits
Why should this trend appeal to you? First and foremost, our fashion choices reflect our personalities. Wearing a bold pair of socks would put your fun, outgoing and approachable qualities on display, which leads to the next point.
Our fashion choices also dictate the impression we have on others, Psychology Today reports in a study. These impressions can signal many things to others, such as playfulness. And what better way to make a good first impression? Find a pair that fits your personality and flaunt it.
Colourful, patterned socks represent a bunch of different things, including unpredictability and confidence. Wearing them is a bold statement that not all people have the guts to make. They also represent innovation, something Silicon Valley employees can vouch for, as well as approachability. They are a safe way to give off the impression that you will not be bound to the strict regulations of the workplace and, at the very least, can serve as an icebreaker for conversation.
 The Journal of Consumer Research has said that those who display non-conformity (ehem, wearing funky socks in a strict business environment) are understood as having more power, status and competency. But others can only make these judgments if they can actually see the attempts you are making to live outside the box. Wearing funky socks fits the bill.
Not only do fashion choices influence the way others see us, but they also affect the way that we see ourselves. Some clothes carry symbolic meaning, and so they can subconsciously change the way in which we see ourselves and our abilities. This idea, which scientists have labelled 
enclothed cognition
, explains how we might feel more able to complete certain tasks or roles while wearing certain items. This is because wearing and seeing symbolically charged clothing pieces can actually alter our psychological processes. After all, we think with both our minds and our bodies. This means that funky socks, which are symbolic of all the qualities mentioned above, can really benefit individuals. And with this list of positive attributes, why wouldn't you be intrigued?
Standing Out
There's still one little problem, though. In a world that is becoming increasingly standard, where everyone looks just about the same, there is a desire to stand out. For some, the idea of wearing funky socks, especially considering their popularity, may not be too appealing. And it makes sense, I mean, how can you consider yourself unique if you're wearing the same thing that tons of other men do?
Society Socks offers a bold solution to this problem, and are perfect for those who wish to stand out. "Every month, we add two new styles" explains co-founder Filip Pejic. This offers customers the opportunity to explore new designs regularly through their subscription.
What's more important, though, is their commitment to creating a social impact with their brand. A quick look at the About Us page on the Society Socks website highlights the two co-founders' inspirational desire to incorporate social impact into the business world. This is refreshing in an environment that is driven mainly by money.
Socks are one of the most needed clothing items, but they are also the least donated because homeless shelters will only accept new pairs. Society Socks is doing their part to help fix this: they function on a pair for pair model. For each pair of socks that you buy, a fresh pair will be donated. This is especially important in a country with harsh winters, like Canada, where Society Socks operates. Customers can feel satisfied knowing that purchasing socks from these guys will result in the donation of a pair of socks to a local organization that helps homeless youth: the Covenant House Toronto.
Now, those who wish to get in on the trend can truly express their individuality. They can feel like they are part of a community who wishes to present themselves as fashionable, and compassionate. This means that Society Socks are even more symbolically charged than your average pair of funky socks, because customers know that they have contributed to a great cause. As a result, wearing these socks will make you feel great, and the structures in your brain will reflect this. You will have more confidence in yourself and your abilities, even if others are unaware of the impact that you have made with the purchase of Society Socks.
To learn more about Society Socks, including their subscription service, you can check out their website.
---