How to Match Your Pocket Square: Color Guide & Basic Rules
on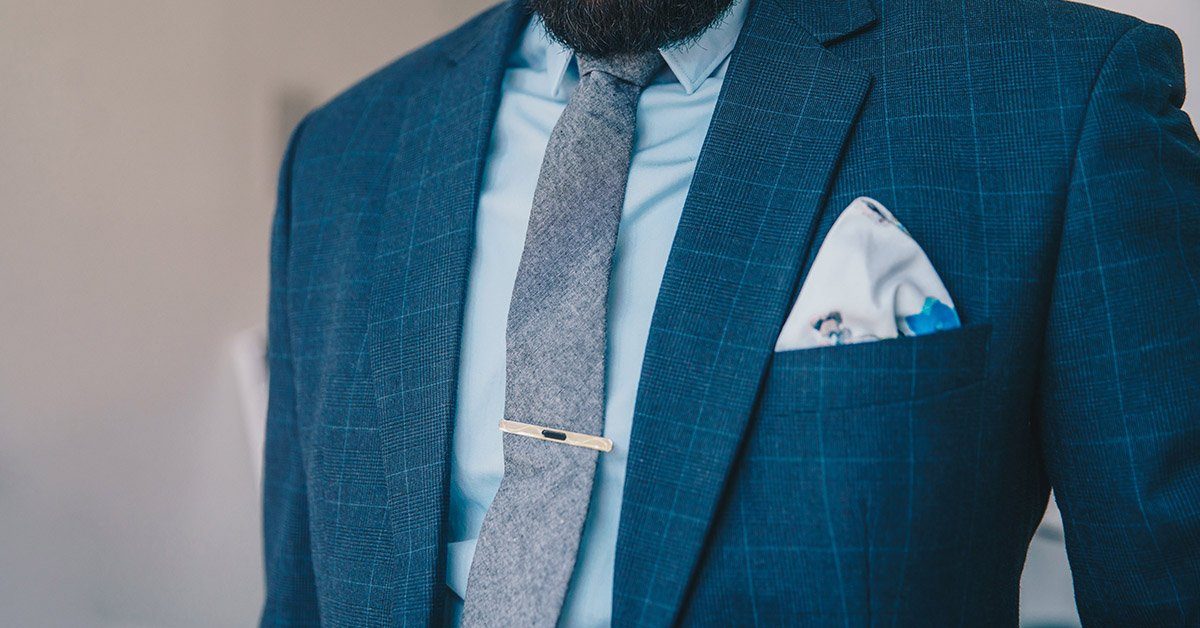 A well-placed pocket square can be the perfect complementary piece to complete your outfit. However, the rules to matching a handkerchief in your breast pocket to the rest of your clothing have subtle nuances that can make pairing items complicated. Follow this color guide below for some basic rules. 
When in doubt, choose a solid color. White and blue are the easiest to match.
If you're just beginning to delve into wearing pocket squares with your outfit, it might be difficult to determine what color schemes work best. A simple, white pocket square can be matched with virtually any outfit. This is perhaps the classiest pocket square look, and can work in very formal settings as well. The white pocket square is a must-have in your wardrobe for its simplicity.
For a slightly more daring look, wear a blue pocket square, which can be an easy fit for most ensembles. Just make sure to avoid fluorescent-blue pocket squares, which can look cheap and childish, yet are quite common.
Choose analogous color combinations for the most harmony in your outfit.
An analogous combination puts together colors that are directly next to each other on the color wheel. This color combination will typically result in a very harmonious outfit. An example of analogous color ensembles is pairing orange and yellow, or blue and violet. The risk with this type of matching is not having a balanced total ensemble (i.e. making your outfit very warm-toned). However, this is not inherently a downside: keep in mind the purpose for your outfit. 
Complementary color schemes will give you the most contrast.
Complementary colors are those that are directly across from each other on the color wheel. This is the boldest approach in this entire color guide. For example, this is like matching blue and orange, or green and red (which may look overly festive).
Keep in mind that you're not obligated to choose the brightest and boldest shade of each respective color: you can pair a navy tie with a muted orange pocket square for a sophisticated, yet uplifting look. Use this color guide as a rough recommendation, as opposed to dead-set rule.
Triadic color combinations create a balance between your different shades.
Triadic colors are those which can be found by overlaying an equilateral triangle on the color wheel, for example: green, orange and purple. Because of the varying nature of the colors, an outfit exhibiting all of these different shades will appear very balanced. Warm tones can be combined with cool tones, without clashing.
A combination that is particularly balanced, is a navy jacket, with a red/burgundy tie, and a yellow pocket square. If executed effectively, the ensemble looks tremendously classy and refined. Complete the look with a slightly bold pair of men's socks with blue, red or yellow tones depending on your pants.
Don't wear an identical pocket square and tie pattern. They should not match!
Directly matching your tie and pocket square is a huge fashion faux pas. It's very reminiscent of a pre-packaged dress shirt/pocket square/tie set. This is arguably the biggest mistake men make when wearing pocket squares and ties together: don't do it! 
Keep your pocket square clean.
This tip doesn't exactly fit into our color guide, but it's an often forgotten one. Your white pocket square might get a little bit scuffed or even plain dirty over time. Don't ignore it; make sure to wash your pocket square appropriately. This is a comical tip that applies to many other garments as well; keep your clothes clean, or risk looking unprofessional and disheveled.
Fabrics matter: mismatch the fabrics of your jacket and pocket square.
Much like the previous recommendations in this color guide, don't identically match the fabrics of your accent pieces and your pocket square. One of the purposes of wearing a pocket square is to add a 'break' to your jacket in terms of color and texture. You can pair a silk pocket square with a wool jacket.
If your tie is a complicated pattern, opt for a single-colored pocket square.
Try to avoid creating an overly busy outfit. As a rule of thumb, if your tie as at least 3 varying shades. Typically, it's best to avoid combining too many different shades. Beyond the color recommendations of this color guide, simplicity should ultimately be a key consideration in your outfit.
Don't forget about your socks.
With the recent resurgence of colorful socks in men's wardrobes, it's imperative to match your socks to the rest of your outfit. While your tie and handkerchief could be finely paired, the wrong socks could derail the look. Apply the same principles of analogous, complementary and triadic colors in this color guide for a wholesome outfit. Since your socks are hidden from view for most of your day while wearing your outfit, try wearing a more daring pattern in the respective shade that you've chosen. Get a pair of patterned socks for any ensemble from our store.
Here's a summary of our pocket square color guide and matching tips:
Choose a solid color when you're beginning to incorporate pocket squares into your outfit. A white pocket square will provide a classic and elegant look.
Analogous color combinations provide a very harmonious and put together appearance.
Complementary color combinations can add contrast to your outfit.
Triadic color sets will add a diverse and balanced demeanour.
Don't match the pattern nor color of your pocket square and tie: it will look childish.
Keep your pocket square (and other garments) clean and pristine.
Combine different jacket, pocket square and tie fabrics to break continuity.
Match a busy tie, with a simple pocket square that's one color.
Don't forget this color guide's principles when matching your socks, too.
Takeaway 
Ultimately, style is subjective. As such, the key element that you should be looking for in your outfit is harmony. The combination of the colors, patterns, and fits should all complement each other in an intentional manner. This color guide outlined some key principles for matching your pocket square, and it can be used as a reference point. How to wear your pocket square with style, is up to you.
Have any personal fashion tips you'd like to share? Tell us in the comment section below!
---