How to Wear Socks with Shorts
on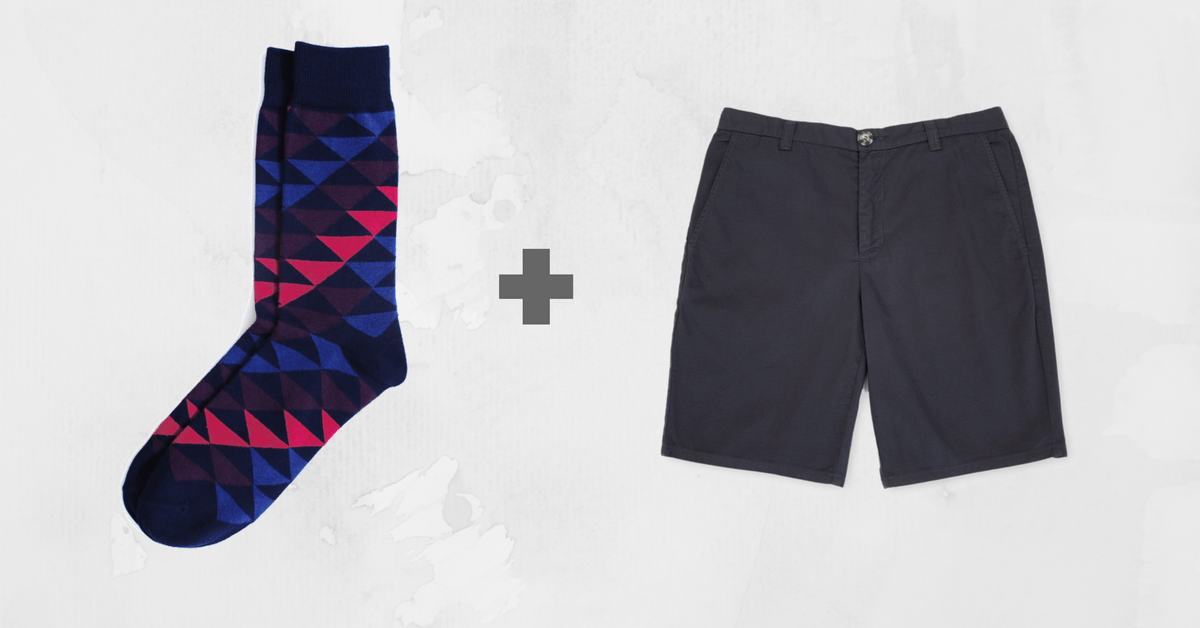 "Everywhere I would go, I would see teenagers and young, cool-looking guys doing it -  It's something new." Garret Munce of GQ
Finding the right combination in your outfit by incorporating socks and shorts can be a difficult task. Many will tell you that this is an impossible feat and that it should never be done. Don't listen to them.
Let's face it: wearing your shoes sock-less will make your shoes smell. Socks are a must. While we agree that in some circumstances it is better to swap out your high socks for no-shows to feel cooler in the heat, we believe that the high sock look can be pulled off. With the right amount of effort your socks can complement your style or even become the focal point of your Summer or Fall outfit.
Some Guidelines
Try to avoid wearing socks with your sandals.
Avoid wearing fancy/luxury brand shoes.
Substitute your fancy shoes for a more casual pair (for example, Vans, Jordans, Adidas and Nikes can work well).
Don't roll down your socks too far; this might throw off your outfit.
Don't be afraid to pull the sock up to its whole length.
Try to avoid baggy shorts as it could make your outfit look sloppy.
How to pair your Socks with your Shorts
The Minimalist - Pastel Colored Socks
Wearing neutral colored socks is a nice way to have your socks complement your outfit without drawing too much attention. Pastel socks can easily be paired with darker colored shorts and shoes and a brighter colored shirt. While they look good within simple outfits, pastel colored socks can complement a wide range of outfits.
The Oldschool - Tube Socks
A style popularized in the 1970s, wearing tube socks can do a good of a job at complementing a neutral color focused outfit, while adding a little bit of color. We recommend trying to match the same color of the stripe on your tube sock to the color of your shoe. Referring back to rule #5 in our guidelines, don't be afraid to pull the sock up the whole length. Keep in mind that this look is on the more casual side.
The Subtle - Ankle and No-Show Socks
At times, your outfit might have enough colors and patterns that you may decide to wear an ankle sock. While there are some scenarios where it may look good (see below), we often recommend substituting your ankle socks for no-show socks. If you decide to wear ankle socks, try and avoid white and black socks and go with socks that match your shorts.
Source: Divine Style
The Funky - Bold Socks
For the Society Socks team, this is our favorite variation of socks and shorts. By wearing minimal outfits, you can make an awesome design and color pattern on your socks really stand out. We recommend experimenting with anything from simple to eccentric outfits until you find something you enjoy. For a more simple outfit, try wearing light or dark pants/shoes/shirts, and having your socks stand out. For a more exciting outfit, try to match the patterns on your socks to patterns on your shirt while maintaining neutral colored shorts and shoes. 

Source: Huffington Post
If you are ever looking for inspirations, come visit the Society Socks store to find some socks to match your look.
---