What is Business Casual for Men: 10 Quick Outfit Tips
on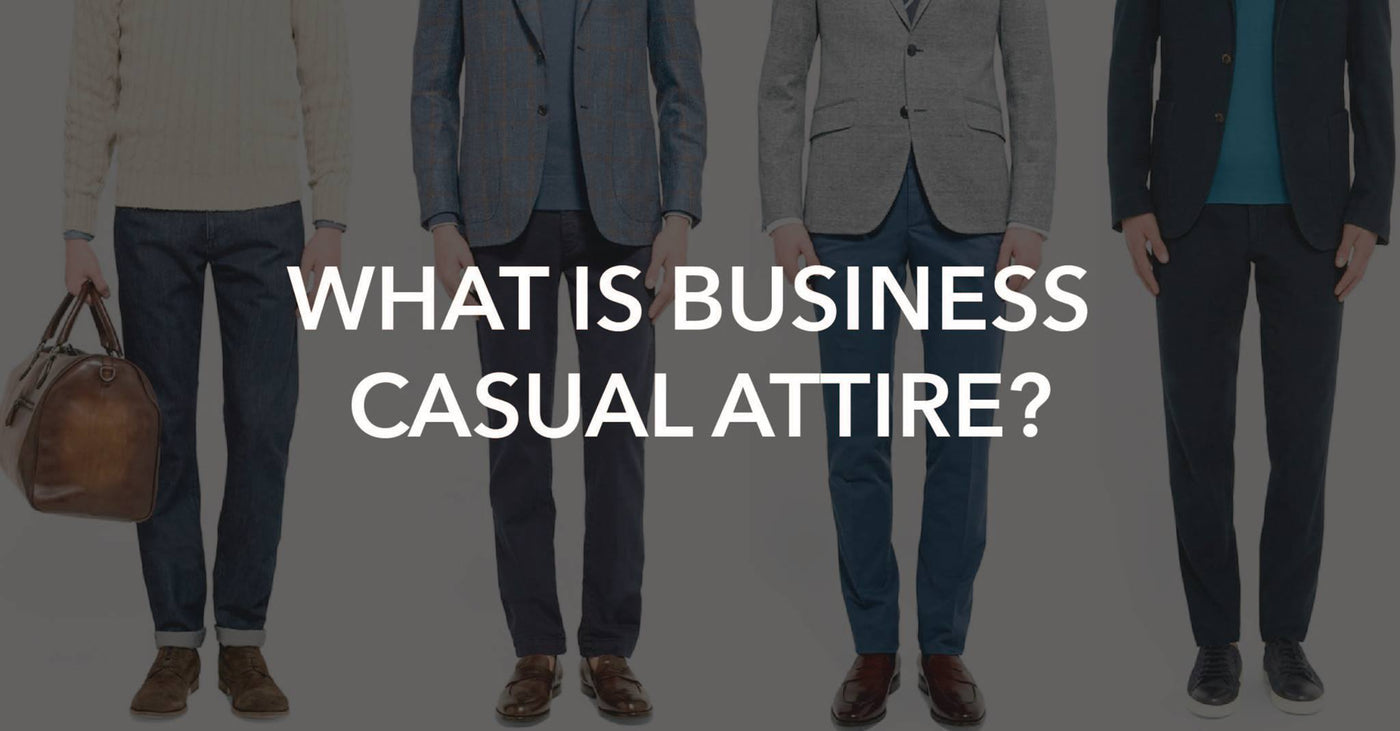 Men's business casual attire has not been around for long. When it comes to dressing for a job, a suit has been the standard until the past half-century. Simply put, if you worked in some form of office, you were required to wear a suit and tie.
How things have changed!
The 1960s birthed the corporate-wear revolution: the 'casual Friday' craze took over North America, with casual button-up dress shirts. This was the creation of men's business casual attire as we know it.
The idea of business casual is quite confusing. It's the fusion of comfortable attire and formalwear (which many men find uncomfortable). This dress code is ambiguous, making it easy to break the subtle guidelines of men's business casual attire.
Here are 10 quick outfit tips for business casual attire:
1. Prioritize fit.
It's incredibly easy to ruin your outfit with a baggy pair of pants or a shirt (consequently, clothes that are too tight can be equally horrendous).  This doesn't just apply to business casual clothes – any outfit will be ruined with poor fit. However, it's an issue that many men in the corporate world are not aware of.
2. Be flexible.
Business casual clothing means different things, in different offices. In certain workplaces, the predominant trend is to wear a blazer. However, some offices are even more casual, with a simple dress shirt and dress pant combination. Your best bet is to gauge what business casual means in your specific workplace, and comply to the underlying style norms (although we do sometimes advocate for pushing the boundaries on dress code and style, too).
3. Ties can be casual, too.
Neckwear can be a great complement to your outfit. The outlook on ties has generally changed in the past couple of decades; there are many types of ties that fit a casual look. For example, pair your outfit with a knit or grenadine tie.
4. Never wear a tie without a blazer.
While a tie can look great in your business casual look, it's not advisable to just wear a shirt and tie. This look is reminiscent of an 11-year-old's attire at a wedding. Make sure to throw that blazer on to complete this outfit, even if you take the blazer off at work.
5. Jeans can work, but only if they're dark.
Jeans fall in a grey area when it comes to men's attire. While a fitted pair of jeans is a wardrobe essential, your favorite pair may not always work in the office. Ensure that the pair of jeans has no rips, and is dark. Be careful with jeans: they're on the more casual side of business clothes, and may not fit well in many circumstances.
6. Tuck your shirt in.
Don't forget to tuck your dress shirt neatly into your pair of dress pants: an untucked dress shirt appears incredibly sloppy and unprofessional. Your shirt may untuck throughout the day, so make sure it's tucked in nicely at all times.
7. Experiment with shoes.
Don't be afraid to stray from the classic oxford dress shoes: men's business casual attire is flexible. Try and mix in loafers or chukkas for a different look.
8. Replace the dress shirt with a polo.
Many men are beginning to wear a polo to work for an even more comfortable outfit. Beware: don't stand out with a polo, if the rest of your colleagues are wearing blazers. To maintain a sense of formality, tuck the shirt into your pants.
9. Patterned shirts work well.
A simple white dress shirt is an essential piece in any man's wardrobe. It can really complement your business casual outfit. But don't be afraid of patterned dress shirts. If you aren't wearing a blazer, a patterned shirt is a fun way to add some depth to your ensemble. Stay away from fluorescent and bright-colored dress shirts, which often look tacky and cheap. A bright purple dress shirt has no place in a professional workspace, nor in any man's wardrobe.
10. Don't forget the socks.
Business formal typically doesn't allow for colorful socks: instead, most men wear black or navy socks. On the other hand, business casual allows men to show some more personality through a colorful pair of socks. Check out our guide on how to pair colorful socks with brown shoes.
Here's a recap of all of the tips from this guide on Business Casual for Men:
Prioritize fit. Don't wear baggy clothes.
Be flexible. Style is not about a fixed set of rules; instead, it's about creativity.
Ties can be casual, too. Opt for a knit tie if you can.
Never wear a tie without a blazer. It looks unprofessional.
Jeans can work, but only if they're dark. Don't wear ripped jeans.
Tuck your shirt in. It will make you look more composed.
Experiment with shoes. Try different styles and colors of shoes, too.
Replace the dress shirt with a polo. Wear the polo for an extremely casual look.
Patterned shirts work well. Just avoid overly tacky styles.
Don't forget the socks. Add some creativity and personality to your outfit.
Check out the Society Socks blog here, for more great content.
---