7 Brands That Give Back in a Meaningful Way
on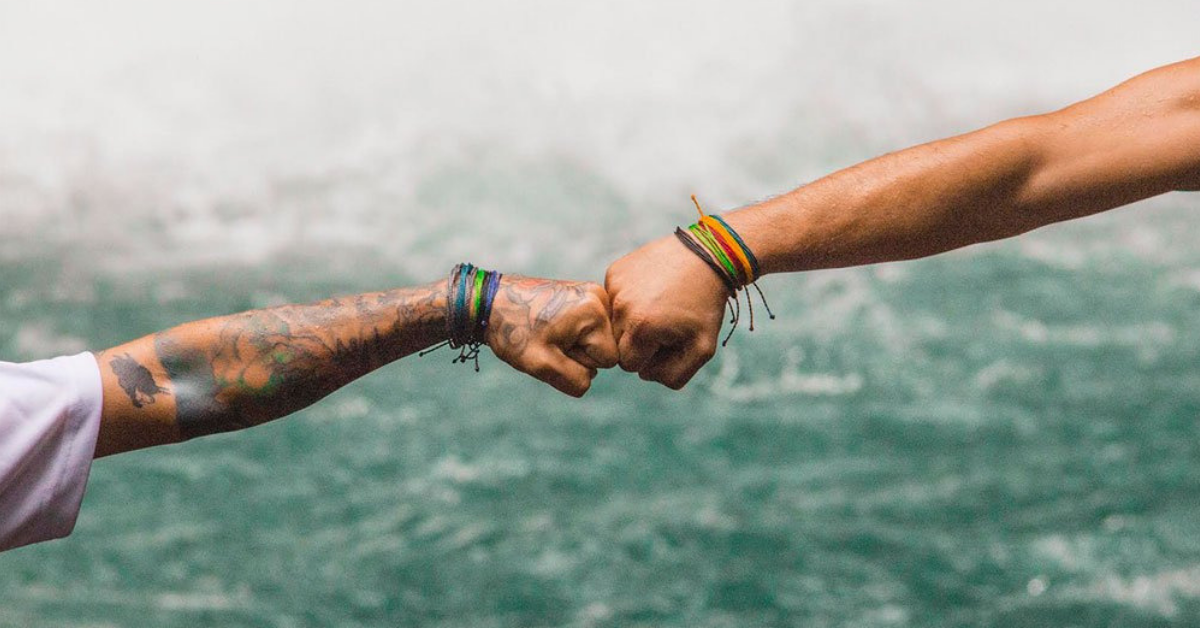 There are countless brands out there doing good by consumers- but what about those that are doing good for the world at large, and those who need their support the most?
Society Socks is extremely passionate about conscious consumption and ensuring that our brand benefits not only our customers, but more importantly, those who are in serious need of basic human necessities. We appreciate brands that share our passions, whether they're providing food for the homeless, water for the thirsty in under-served countries, education for children and women, the list goes on.
 Our excitement for the sudden rise of social change in the consumer industry has led us to share Our Top 7 Brands That Give Back:
1. WeWOOD
What's better than owning a unique watch made out of all-natural and recycled wood? Knowing that your purchase has contributed to planting another tree on earth. Established in Italy in 2009, WeWOOD has been styling watches for men and women while expressing their care for the global environment. They are the first company to create wristwatches using toxic-free materials.
 "You buy a watch, we plant a tree." 
This is the best part of WeWOOD. They don't just sell all-natural wood wristwatches; they give back to the planet. WeWOOD has partnered with the non-profit organization Trees for the Future and committed to planting a tree for each watch sold. Contributions to their company have allowed them to plant over 604,475 trees across the globe since 2010. Their goal is to plant 1 million trees by 2020.
2. Yuhme 
Look out, S'well—Yuhme is on the horizon. Husband and wife athlete duo Alexandra and Alexander Nash from Sweden started their company designing and distributing water bottles in an effort to give back to those in need and forge a lasting change in the world. However, they didn't just create any old bottle. They placed a major focus on ensuring that each bottle they created was 100% environmentally friendly with their main ingredient- a bio-plastic material produced from sugarcane.
Alexandra and Alexander are passionate about providing clean water to those who desperately need it in Africa. For the last 11 years, they've partnered with Water for Good, working to bring water to the Central African Republic by repairing old wells and digging new ones. To this day, Yuhme and Water For Good have been able to donate 47,484 months of drinking water to impoverished countries.
"Go green so others can drink clean."
3. QuiQuattro Marketplace
Qui Quattro has created a feasible marketplace for international artisans in North America. In 2014, three friends from Turkey- Ms. Aylin, Ms. Gulfem and Ms. Mine- joined forces to work with female artisans and businesses that employ women. Today, they provide high-quality merchandise for customers worldwide, such as towels to bed wear and jewelry—all of which is hand-made. In 2017, this company donated 10% of their earnings back to the women that they've worked with.
The Qui Quattro team is most proud of their ability to donate to the Bridge to Turkey Foundation, which supports school-aged girls. They have also provided scholarships to female students in Turkey. Talk about giving back to your community!
4. Sudara
What do you get when you combine Indian culture with comfort?  Punjammies!
After returning from a trip to India in 2005, Shannon Keith was disturbed and deeply moved when she heard that women in parts of India were actively being sold into sex slavery, forced to live that lifestyle as a result of their lack of education and resources. She rallied family and friends together to brainstorm ways to flip this reality, and give women the option to work for a wage and pave their own path to freedom. This was the beginning of Sudara.
Today, Sudara stands to "empower women to live in freedom from sex slavery through safe, sustainable living-wage employment." Sudara sells Punjammies (a Punjabi play on pajamas), robes, and slouchy pants to shoppers. Each piece is named after a woman who works at the center.
Several years later, Sudara is making even more impact in the world than ever before. They have forged multiple sewing center partnerships, provided jobs for women in India, made a way for women to graduate from training programs and give them the confidence to start their own businesses, and encouraged them to further their studies in related fields. Sudara also created a non-profit organization, the Sudara Freedom Fund, to equip women and children with sustainable living options in India. Donations made when purchasing Sudara merchandise are sent directly to the Sudara Freedom Fund to assist with their efforts.
5. puravida
Friends from Southern California, Griffin Thall and Paul Goodman didn't know that their grad trip to Costa Rica would spark an entire business out of them. After surfing one day, they met two local artisans who were creating hand-woven bracelets to make a living for themselves. The California boys were moved to help these artisans and asked them to make 400 more bracelets to take home with them to San Diego...and the rest is history.
Their success led to them selling millions of bracelets each year. Today, Pura Vida has over 650 artisans creating endless colour-coded bracelets, and the business has expanded to El Salvador, India, and more. These artisans now have a steady income and can count on working in a safe environment.
It doesn't end there. Pura Vida has created the Charity Collection, partnering with over 175 charities globally to donate nearly $1.7 million to needy causes. With every Pura Vida purchase, customers are assured that their bracelets are hand-made by someone with love, and that every dime is spent benefiting another life.
6. Cheekbone Beauty Canada 
It can be tough being a visible minority in the beauty industry. It's even tougher as a First Nations child in need of education funding. First Nations people get up to 50% less in funding than the majority of children in Canada. In an effort to build a bridge for a better future for all Canadians, Cheekbone Beauty Cosmetic Inc. has taken the initiative to address the injustices plaguing First Nations People.
 Jenn Harper founded Cheekbone Beauty to create a beauty brand that was all-Canadian, represented all people, never tested on animals, and most importantly, gave back to the First Nations community. However, her ultimate goal was to bridge the educational funding gap that exists between Indigenous and non-Indigenous students. The sudden passing of Harper's late brother, by cause of suicide, also pushed her to support Indigenous youth. Ten percent of Cheekbone Beauty's profits are donated to the First Nations Child & Family Caring Society of Canada (FNCFCS). To this day, they have donated thousands to FNCFCS.
7. Good Food For Good
At Good Food For Good, everyone lives a healthy life. This company helps people eat healthier, and with every packaged meal purchased, a hungry child is fed. Another plus? Every meal is made with organic ingredients!
 Based in Toronto, Ontario, Good Food For Good believes that "business is a force for good in the world," which is exactly why they exist. Born and raised in India, company founder, Richa, found it hard to provide wholesome meals for her family on busy nights. With her desire to provide the same quality of food that she had grown up eating every night in her childhood home, she launched Good Food For Good in 2013.
"Buy one, feed one."
Richa adopted the "One for One" initiative she had seen TOMS carry out over the years, and confirmed this as the method she wanted to use to to give back to people in need  in her homeland: the company provides a meal to a child in need with every purchase. Today, Good Food For Good has fed over 225,000 people in need. They aim to feed 1 million in 2020.
Support brands that care!
We hope that showcasing these brands inspires you to shop more consciously! Make every dollar count from this day forward!
---