6 Brands that Support People with Disabilities
on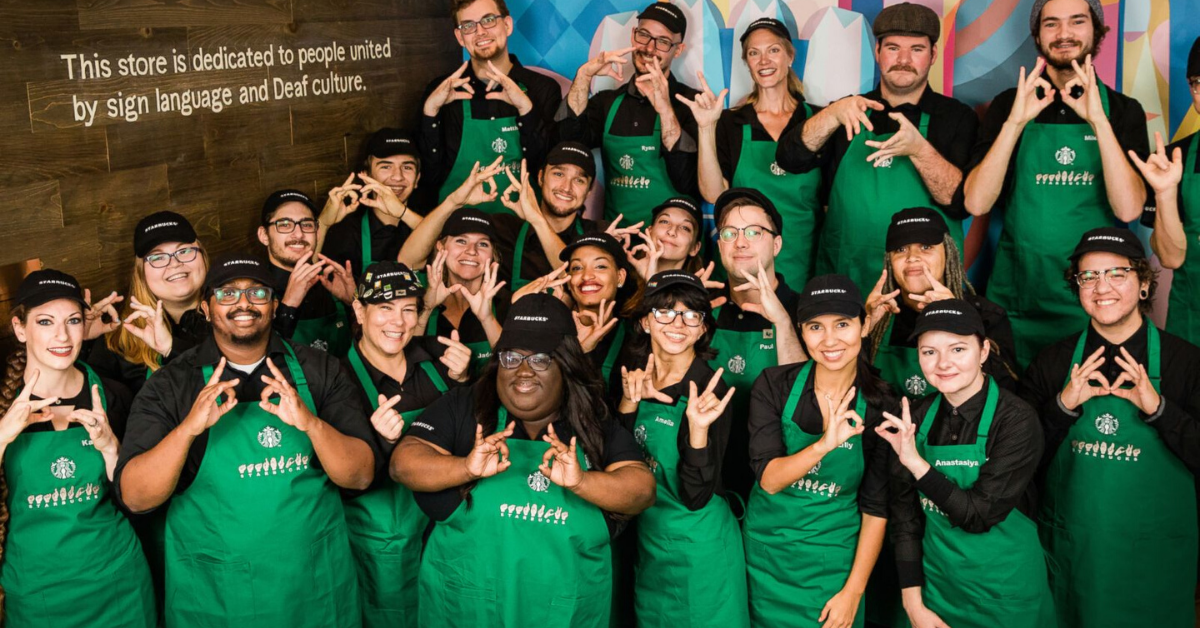 When you hear the word accessibility, what do you think of?
Some think of the universal handicap sign on parking spots or electric doors, while others think of the presence of elevators in public places, or lack thereof. Society is realizing the importance of forging an accessible world for those living with disabilities. We're seeing a growing number of companies become more intentional when it comes to serving this under-served group. We've narrowed in on some exceptional brands that have adapted their business model to be more accessible in creative ways:
Asos
British online fashion retailer Asos serves trendy fashion brands and styles to young adults around the world. Selling hundreds of well-known brands, as well as their own, they are one of the leading online retailers to exist today. Last year, they were recognized for making clothing- and great fashion sense- accessible for people with disabilities.
Tie-dye isn't just for kids! The online retailer released a wheelchair-friendly, tie-dye waterproof jumpsuit. The jumpsuit was created in collaboration with Chloe Ball-Hopkins, GB Paralympic hopeful. The item received great praise for "challenging the stigmas around disabilities" by Gurls Talk, an online community founded by model Adwoa Aboah.
The jumpsuit has a zip around the waist so that people can easily get out of the jumpsuit. This feature also makes the garment versatile, with the ability to wear the top and bottom separately. The cuffed ankles on the jumpsuit allow people of any height to wear it. The waterproof pocket on the breast of the jumpsuit is an easy place to store important personal belongings, such as a cell phone or medication pills.
Even with all of these features, the garment is still high fashion, and can be worn by anyone!
Tommy Adaptive
In 2017, Tommy Hilfiger launched their Adaptive collection to make it easier for adults and children with physical and mental disabilities to dress themselves- and feel good about it. Whether a person is dealing with mobility issues, limited dexterity, missing limbs, or other disabilities, this collection has it all. Every garment featured clever components, such as magnetic closures, one-handed zippers, and extended openings – while still being just as high-quality as their common collections.
In 2018, Tommy Hilfiger released "Independence," their Fall campaign, directed by James Rath (born legally blind due to ocular albinism and nystagmus), Dmitry Kim, a hip-hop dancer and leg amputee, and many other individuals in the public eye, all to encourage people with disabilities to embrace their uniqueness and learn to love the skin they are in.
Today, Tommy Adaptive lives on. Their online campaign features statistics of disabled individuals in North America to raise awareness of this demographic and the importance of representing them. Tommy Adaptive also showcases heartwarming, real-life stories of Tommy Adaptive customers, and an ode of thanks to the brand for proving that they care.
 "The Tommy Hilfiger Adaptive collection continues to build on that vision of inclusivity, transforming the way the fashion industry defines diversity by serving to the needs of people with disabilities."
-Tommy Hilfiger
Mia Tui Bags
Mia Tui bags is known for designing comfortable, practical everyday bags for mothers with busy lives. That is, until they realized that their most popular product was built for so much more. They now design bags for busy individuals in wheelchairs. What could possibly have been altered? Apparently, a lot more than we initially thought!
This brand's team came up with the clever idea to change the inside of the traditional Mia Tui bag colours to bright blue for the visually impaired, and removed the magnetic straps so that it could be used by people with pacemakers.
We came across a touching testimonial by Shona Louise, an online blogger who has benefitted from the new, accessible design.
"It was the mobility walker clips they sell that first introduced me to the brand, an accessory that is ideal for wheelchairs, mobility walkers, buggies and more."
The "mobility walker clips" make it easy for people with disabilities to clip their bag onto their wheelchair.
"The fact that a company has thought of disabled people really gives me hope too, as so often our needs are forgotten, and many of us end up having to do a little DIY project to make things like bags work for us!"
Starbucks
With its product prices on the higher side of the fast-food spectrum, Starbucks has been celebrated for introducing game-changing ideas to entice and benefit their committed customers through loyalty programs. Who doesn't want to save some money after buying twelve beverages for roughly $100? While you may think that rewards systems and pleasant working spaces are the cap to their kindness, there's much more in store.
In October 2018, Starbucks opened its first sign language store in Washington, USA, where all employees are fluent in American Sign Language.
From the attire to the service, Starbucks is serving those that are deaf or hard of hearing. Deaf and hard of hearing employees wear an apron that spells out 'Starbucks' in American Sign Language and wear a pin indicating that they have the ability to sign. For those who are open to learning American sign language, they can use digital devices to communicate with staff in the store.
This is a big move for the fast-food franchise, as it is one of the first mega-franchises that accommodates deaf and hard of hearing people. We look forward to seeing this effort grow within the Starbucks franchise and hope to see more brands take this kind of initiative to serve all of mankind respectively.
P&G – Herbal Essences
Procter & Gamble's product Herbal Essences is doing all they can to make hair care easier for the visually impaired. They became the first mass hair care brand in North America to introduce an inclusive bottle design for people with low to no vision.
Sumaira Latif, a longtime consultant for inclusive design at Procter & Gamble lead this campaign and product vision. She herself is blind.
The bottle designs for their traditional shampoos and conditioners were altered, with the addition of tactile indentations that helped users tell the difference between the two, as they both shared the same bottle structure. Even if you don't know braille, but have issues with visual impairment, Herbal Essence accommodates your personal journey, which should be appreciated and celebrated.
As of 2019, Herbal Essence has delved into the digital world. Involving themselves with the Be My Eyes app, they are making independent shopping and product research much easier for their customers. The app uses the Alexa audio assistance feature to inform shoppers of all available Herbal Essence products in the market. A customer can ask a question, such as, "Alexa, what Herbal Essences shampoo is good for curly hair?" The app also connects blind and low vision people with sighted volunteers through live video calls.
Braille Code Inc.
Grace Benedith-Cane is a wife and mother of three children, one of them legally blind since birth. Inspired by the strength of her impaired son, she decided to further encourage his independence by creating Braille patches to assist him as he grew older and dressed himself. She eventually realized that this would not only be useful for her own son, but for the blind and visually impaired everywhere, especially children.
The Braille patches help people with vision impairments differentiate between different clothing, whether they are putting on their shoes, socks, or shirt. For example, socks with braille patches can indicate the back and front, and numbered adhesive patches help children match the buttons to the buttonholes on their shirts. There are even patches on the inside of the tongue of shoes to show which is left and right.
Grace has testified that this simple detail has given her son a newfound confidence, as well as a sense of pride. She hopes that this will resonate with other children with disabilities, and even influence money and currency design in the future.
 "I want Braille to be placed on products, on dollar bills. It's crucial for them."
Looking Forward
Accessibility for disability in businesses is more than a requirement. Serving the disabled community begins with how society views disability itself. Brands that genuinely support the needs of under-served groups are better off because they are appealing not only to the masses, but to every human. How dignifying!
We stand with these brands as they support and celebrate the capacities of what disabled people can do. Let's continue to reverse the prejudiced aura that plagues our world and support brands that are embracing an inclusive culture throughout their organizations.
---