Dressing for Less: Style Guide for Men on a Budget
on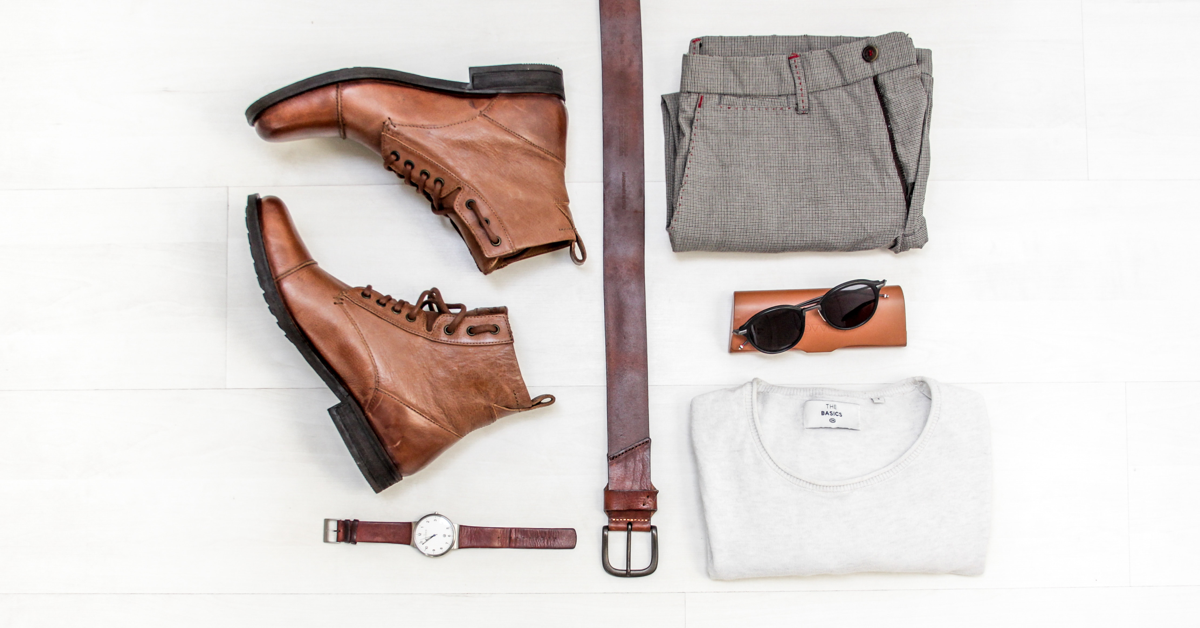 Dressing well does not need to cost a fortune. We've written a comprehensive style guide for men on a budget below. Follow our tips to get the most out of your hard-earned dollars.
1. Durable shoes for multiple occasions
If you're looking for shoes on a budget, you should consider two main factors: the longevity and adaptability of the shoe.
Look for longevity: a shoe's price point should be evaluated based on the total expected lifetime, as opposed to the one-time cost. While a low to mid-tier shoe may seem like a deal, the quality of the shoe may not be worth it. You may be looking for a replacement pair of shoes within a year or less. If you're looking for a dressier shoe that will last a long time (and be much cheaper in the long-run), opt for Allen Edmonds. Alternatively, if you're looking for a lower-priced shoe that will last long too, we recommend Clarks boots (pictured below).
Look for adaptability: If you're shopping on a budget, look for shoes that can be worn in professional and casual settings. We recommend having two staple pairs of shoes: a dress shoe (or boot) that can be worn in the office, and a casual pair of sneakers (Adidas NMDs, Nike Killshots, Converse, etc.). This way, you'll have a shoe alternative for every occasion.
2. Versatile pants
Much like our shoe recommendations, we suggest having a few staple pants in your wardrobe to maximize the amount of different outfits you can plan. The most foundational pair of pants that should be in every man's closet is a pair of jeans. Levi's Jeans are rumored to be incredibly long-lasting, especially with the proper care, so they may be worth the investment. An added benefit of jeans is that they shouldn't be washed after every single wear, making them a very durable staple pant.
Beyond jeans, a pair of everyday chinos should be added to the mix in a diverse color. If you're looking to only own a few pairs of pants, we suggest purchasing a lighter pair of chinos like tan or grey. This will double the number of different outfits that you can squeeze out of your closet. For a third pair, look for a darker pair of chinos to mix in another dark pair of pants.
If you just own these two types of pants, you're already on your way to a solid wardrobe.
3. Versatile tops
Much of the variety in your outfits will come from different tops. This is the most budget-friendly piece in your wardrobe that you can customize for new looks.
For the office: If you have a semi-formal dress code (check out our guide on business casual office wear), a few simple pairs of dress shirts to alternate week-round should do the trick. Ideally, you keep the colors lighter-toned (white, light blue, light purple, light pink). While darker colors can work, you need to be careful about how to mix them into your outfit. You should particularly watch out for very bright and vibrant colors (bright red, yellow, green, purple): these colors may seem overwhelming to the eye. Try to keep it simple with the basic colors.
For casual wear: a mix of t-shirts in different colors should be the core of a wardrobe for men on a budget. Once you have the essential t-shirt colors (a few white, blue, pale green, blue, grey), you can expand your wardrobe beyond t-shirts to polos, and some sweaters. The key is to buy pieces that can be layered to make many outfits (i.e. a cardigan that can be layered with all of your t-shirts). If you keep it simple with the tops, you will soon round out your wardrobe to have pieces that you can wear for any occasion. Once you have the fundamentals, you can expand to more patterned tops.
4. Buying a suit on a budget 
Every man should have a basic suit sitting in the closet – you never know what occasions will arise, whether it's a work function or a wedding. The basic color of suits that you should have are navy, grey, and black. However if you're looking to only own one suit, we recommend purchasing a dark navy suit, which can toggle the line between extremely formal, and more relaxed.
The most important suiting tip you should take away: 90% of the battle is the fit. You can buy a cheaper suit, have it tailored, and still look like a million bucks. However, an expensive suit that doesn't fit nice will just appear sloppy. It's all about the fit!
5. Don't forget the cotton socks!
Funky socks are a must when it comes to a men's wardrobe. Don't forget to mix in some colorful socks to add some flair to your outfit. This is the most affordable way for you to add some personality to your fit – it's much cheaper to mix in colorful socks, than new pants or tops. Make your socks count!
Remember to purchase cotton-based socks for everyday wear, as they are more breathable for your foot. This is especially important if you're wearing them for a full day at work. Learn more about how to wear colorful socks in our style guide. 
6. Adjusting your wardrobe for seasons 
If you live in a climate with a colder Fall and Winter, all of the previous tips apply. The only additions to make to your wardrobe are some warmer items. A knit sweater, a crew neck, and some flannel shirts should allow you to build out a variety of different outfits in colder periods. For moderate climates, a basic windbreaker will be perfect to bridge the gap to the Winter months.   
7. Accessories guide
To spruce up your fits, look to build in some basic accessories into your wardrobe.
Watches: Keep it simple and look for a basic watch that's versatile (like Daniel Wellington).
Bracelets: Mix in a bracelet (black beaded) to add some balance to your outfit, by wearing it opposite to your watch.
Belts: Two belts are enough to cover all of your needs. Just ensure to match your belt to your shoes.
Sunglasses: Wayfarers or aviators are the two classic styles of sunglasses. You can't go wrong with either pair.   
---